In time, evil power began to flow from the tainted Sacred Realm into the temples of Hyrule, and black clouds darkened Hyrule's sky. Greedy men were drawn to the Evil Realm to become part of Ganondorf's army and share in his riches. Ganondorf used the Triforce to transform them into forms that reflected their hearts, terrifying monsters and twisted freaks obedient to Ganondorf's bidding.
Before long, Ganondorf's evil army swarmed against the mighty Hyrule Castle Town. All was lost as Hyrule Castle Town was destroyed and its people scattered. In place of Hyrule Castle, Ganondorf erected his own fortress, a tower that floated above a sea of lava. The Royal Family was either eradicated or forced into hiding.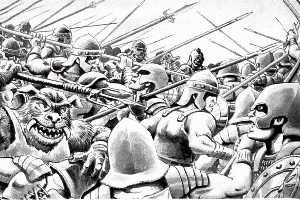 Although the strength of the Triforce of Power enabled Ganondorf to become a mighty, evil king, his dark ambitions were not satisfied. To gain complete mastery of the world, Ganondorf started looking for those chosen by destiny to hold the two other Triforce parts. In his search for the rest of the Triforce, Ganondorf awoke ancient, malicious spirits from their ancient sleep. One spirit in the Water Temple put a curse on Zora's Domain, causing it to freeze and trap most of the Zoras under ice.
Ganondorf also woke the ancient fire dragon Volvagia, a monster that had been defeated centuries before by the hero of the Gorons, a predecessor of Darunia. As a warning to all who would dare oppose him, Ganondorf's henchmen imprisoned the Gorons in Death Mountain while Darunia was gone, planning to feed them to Volvagia.
The last stronghold against Ganondorf's evil designs was the Chamber of Sages in the Temple of Light. But the temples of Hyrule had been infested by Ganon's evil minions, and the Sages that guarded these temples couldn't hear the awakening voice from the Sacred Realm commanding them to seal Ganondorf and his evil away in the Evil Realm. The only Sage in the Chamber of Sages, Rauru, was powerless to seal Ganondorf on his own. As long as the Sages remained unable to hear the awakening voice, Ganondorf's ambition to conquer the world would keep the people of Hyrule huddled in fear.
Last Modified: Nov 7 2004